In this article, you will get all information regarding Striking Montreal cemetery workers call for resumption of negotiations

"We've always been available, but they are the ones who have chosen not to restart discussions," Notre-Dame-des-Neiges management says. "Give us a date and we'll make ourselves available."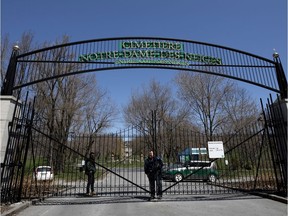 Article content
Striking Notre-Dame-des-Neiges cemetery workers called on management to resume negotiations and reopen the institution's gates to families as a bitter labour dispute showed no signs of ending anytime soon.
Article content
Gates have been locked since operations and maintenance workers at the cemetery walked off the job in January, halting some burials and preventing people from visiting graves. Office workers have been on strike since September.
Article content
Talks between union representatives and the Fabrique de la paroisse Notre-Dame, a Catholic organization that manages the cemetery, broke off in late January and haven't resumed since, Nicolas Lefebvre-Legault, a spokesperson for the Confédération des Syndicats Nationaux, said Saturday.
Pastor Miguel Castellanos, the Fabrique's chairman, "must imperatively intervene to resolve these two conflicts," CSN executive vice-president François Enault said Saturday in a statement. "He has a moral and legal responsibility to serve the families who have entrusted them with a crucial part of their lives. And right now, the employer's behaviour shows us the exact opposite of decency."
Article content
Fabrique executives are planning to re-open the cemetery's gates as soon as enough snow has melted, spokesperson Daniel Granger said Saturday.
"It's hard to know exactly when we can reopen, but with any luck we should be good to go in a week or two," Granger said in an interview. "A week ago there was a metre of snow on the ground. Right now there is a lot less."
Negotiators for the Fabrique are ready to resume labour talks, Granger also insisted.
"We're waiting," he said. "We've been waiting for them to call since Jan. 30. We've always been available, but they are the ones who have chosen not to restart discussions. Give us a date and we'll make ourselves available."
Office workers at the cemetery have been without a labour deal since December 2017. The collective agreement for operations and maintenance workers expired a year later.
'His soul is not at rest': Families unable to bury loved ones due to cemetery strike

Workers at Notre-Dame-des-Neiges cemetery on strike

Office workers at Notre-Dame-des-Neiges cemetery launch strike
Striking Montreal cemetery workers call for resumption of negotiations

For more visit studentsheart.com
Latest News by studentsheart.com