In this article, you will get all information regarding Marlene Jennings: Justin Trudeau's 'come-to-Jesus moment'

That the prime minister is considering asking Supreme Court to rule on notwithstanding clause is welcome news.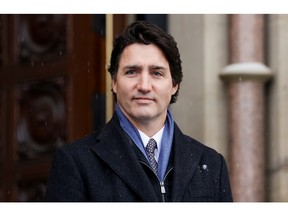 Article content
For anyone unfamiliar with the expression "come-to-Jesus moment": it generally refers to when a light bulb turns on for someone, allowing a clear understanding of some issue.
Article content
Here's a real-life example of a come-to-Jesus moment I experienced during the public debate on whether same-sex couples should enjoy the right to legally marry. Born in 1951, I was raised to believe that marriage was between a man and a woman. I accepted that faith-based tenet without question until I hit my early 50s. Even as I became an outspoken advocate for equal rights of LGBTQ2+ people, I unquestioningly continued to believe that legal marriage should be allowed for heterosexual couples only.
Article content
After my election to the House of Commons in 1997, I was confronted almost immediately with the issue of whether same-sex couples should be "granted" the right to legally marry.  A multitude of private members' bills were regularly tabled by other MPs on this issue and, no surprise, virtually all of these supported the "traditional" viewpoint. I took part in some of the debates on these bills and consistently argued that legal marriage should be available only to heterosexual couples.
Article content
Well, in the early 2000s, I had my come-to-Jesus moment. A bolt of lightening pierced my brain and it struck me that we are ALL humans, that marriage is one of the fundamental pillars of our society and therefore sexual orientation should not and must not be a determinant of such a fundamental human right!
You must be wondering by now what all the above has to do with Prime Minister Justin Trudeau.
Well, last week, Trudeau publicly declared that he is seriously contemplating sending a reference to the Supreme Court of Canada on an important piece of our Canadian Constitution: the notwithstanding clause. That clause permits both provincial and federal governments to suspend such fundamental constitutional rights as equality rights, freedom of speech rights and so on with respect to laws where it is invoked.
Article content
Until fairly recently, this clause was used sparingly and only after a law had been adopted, implemented, challenged before the courts and ruled constitutionally inoperable. The government in question would then use the notwithstanding clause to allow the law to continue to operate for the next five years, providing time to redesign its law to both conform to the court's judgment and achieve its originally stated objective.
Recently, we have witnessed the Legault government and the Ford government in Ontario use the notwithstanding clause pre-emptively; Legault in both Bill 21 (on laïcité) and Bill 96 (Charter of the French Language amendments). The Trudeau government has had very little to say, at least publicly, about these laws in general and, until very recently, about the pre-emptive use of the notwithstanding clause in particular.
Article content
Many English-speaking Quebecers and community organizations have been reaching out to Liberal MPs, senators and even cabinet ministers, asking them to urge Trudeau to ask the Supreme Court of Canada to rule on the clause's use, including pre-emptive use. For several years now, our pleading has been ignored, but now that the Ford government has fallen in step with the Legault's government's pre-emptive use of the constitutional override, it seems that Trudeau has finally had his own come-to-Jesus moment: he had said publicly his government is seriously considering asking the Supreme Court of Canada for such a ruling.
Such a reference should also include his own proposed legislation, Bill C-13 on official languages. It includes direct references to Quebec's Charter of the French Language, in which the notwithstanding clause has been embedded by Bill 96 to suspend fundamental charter rights of ALL Québécois.
If Trudeau does include C-13, hallelujah, he will have finally seen the light!
Marlene Jennings is former president of the Quebec Community Groups Network and former Liberal MP. She sits on the boards of several community organizations. This is her debut column. She will be contributing monthly.
Allison Hanes: At some point, Ottawa must stand up for the Constitution

Kheiriddin: Poilievre goes after disaffected Quebec Liberals fed up with Trudeau

Opinion: Ottawa should ask Supreme Court to rule on notwithstanding clause
Marlene Jennings: Justin Trudeau's 'come-to-Jesus moment'

For more visit studentsheart.com
Latest News by studentsheart.com