In this article, you will get all information regarding Allison Hanes: At some point, Ottawa must stand up for the Constitution

Predictably, Prime Minister Justin Trudeau's comments about the notwithstanding clause drew a stern rebuke from Premier François Legault.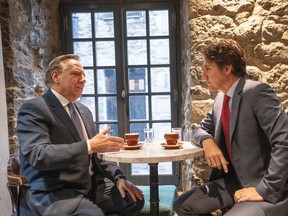 Article content
Let's face it: Prime Minister Justin Trudeau is damned if he does and damned if he doesn't.
Article content
If he dares even muse about standing up for constitutional rights and reining in the overuse of the notwithstanding clause by the provinces, he knows he will earn a stern rebuke from Quebec Premier François Legault. If he doesn't, he comes across as a doormat too weak to stand up for the most basic principles of justice in a democratic society.
Article content
This no-win situation explains why Trudeau typically only addresses this sensitive and unsettled question when called upon to do so — like when asked about it by journalists. It also explains why, despite lofty pronouncements, his government is still reluctant to do anything concrete to prevent provinces from making an end run around the Canadian Charter of Rights and Freedoms nearly four years after Quebec and Ontario pioneered this crafty strategy.
Article content
So we've seen this past weekend when La Presse published a one-on-one interview with Trudeau in which he was asked about the pre-emptive use of the notwithstanding clause.
"We're in a period of normalizing the suspension of fundamental rights," the prime minister lamented. "That worries me."
When asked about it again in Toronto on Monday, Trudeau reiterated his opposition to proactively thwarting legal challenges.
Cue a tirade from Legault, whose reaction was as swift as it was predictable. The premier took to social media Saturday to denounce this "frontal attack" on Quebecers and again on Monday. 
"Quebec will never accept such a weakening of its rights. Never!" Legault fumed.
We've seen this film before, most notably during the last federal election campaign when Trudeau twisted himself into a pretzel in defending constitutional rights while simultaneously trying to avoid a clash with Legault. The end result of this tap dance was Legault endorsing the hands-off Conservatives as the best choice to lead Canada.
Article content
Not that voters listened, of course, returning another Liberal minority to office. But many moons later, Justice Minister David Lametti is still studying Ottawa's options, which essentially boil down to seeking a reference from the Supreme Court of Canada or intervening if and when a challenge of the law ends up before the high court.
But the longer Quebec and Ontario are allowed to skirt constitutional rights with impunity, the worse the blowback is going to be.
Ontario Premier Doug Ford was the first to shield a questionable law from court challenges back in 2018 when he decided to slash the size of Toronto city council in half, during a municipal election campaign no less.
Legault has resorted to it to safeguard Bill 21, Quebec's secularism law, which was adopted in 2019. He relied on it again with Bill 96, legislation to strengthen French, passed last year.
Article content
If Legault has been highly strategic, using the clause to protect laws that touch identity and values, Ford has used it for petty purposes. He ham-fistedly attempted to impose a new collective agreement on education workers, but was forced to back down when it resulted in a general strike in schools.
It would certainly be easier for the federal government to justify intervening to stop the bungling Ford. But Legault takes advantage of the fact the secularism and language laws are popular. He also benefits from lingering bitterness that Quebec has never been brought into the Constitution.
Still, insisting on the protection of Charter rights is not a frontal attack. It's in the interests of Quebecers, as much as any other Canadians.
Article content
This is not to say there are never grounds to use the notwithstanding clause, but it should be the exception not the norm. And it should only happen as a last resort, after court challenges run their course, like when then-premier Robert Bourassa turned to it to uphold Quebec's sign law. 
Quebec Superior Court has found Bill 21, which forbids public servants in positions of authority from wearing religious garb, violates minority rights, especially those of Muslim women. But the judge said he was powerless to strike down the law because of the pre-emptive use of the notwithstanding clause.
Lametti has previously indicated Ottawa will join the challenge — someday, if and when it reaches the Supreme Court.
The latest war of words is no indication the federal government is any closer to getting involved. More likely it's a sign the old stalemate will continue — especially if (God forbid) there is another federal election on the horizon.
But at a certain point push must come to shove. Otherwise the Constitution will no longer be worth the paper it's written on.
ahanes@postmedia.com
Hanes: If you dare to disagree with Legault, you are 'attacking Quebec'

Hanes: Even kids can see Bill 21 is wrong, why can't our leaders?
Allison Hanes: At some point, Ottawa must stand up for the Constitution

For more visit studentsheart.com
Latest News by studentsheart.com